The Main Hall

The main hall is a rectangular area of approximately 10.7 by 19.2 metres (206.4 square metres). It has a seating capacity of 220 and includes 223 chairs and 10 tables.
The Main Hall, which has recently been renovated, is ideal for concerts, plays, meetings, education classes, presentations and expositions such as plant or small animal shows.
The stage at the front of the hall includes lighting, curtains, steps, a sound system, and a grand piano that is available for classical music concerts. The piano is an excellent Yamaha and is well maintained and regularly tuned.
Concert pianists of the Sydney Conservatorium and visiting pianists of other orchestras have always admired the quality of pitch and tone of the piano. The photograph below shows Subin Park playing the piano during the Sydney Conservatorium annual concert tour in 2014.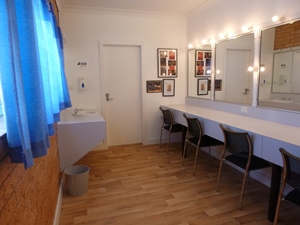 There are two dressing rooms behind the stage; these have recently been refurbished and each includes a toilet and shower. Funding for the renovation was awarded by Nambucca Shire Council and FRRR (Foundation for Rural and Regional Renewal).
Entry to the hall is via a set of push-bar doors from the Foyer which is adjacent to the street. To the left hand side of the hall there are two sets of double push-bar emergency exits leading out to a courtyard. These are also suitable for disabled access to the main hall.
On the right hand side there is access to male, female, and disabled toilets and to the Stringer Gallery. The Stringer Gallery, which may be booked separately, includes a small kitchen that is equipped with crockery, a fridge, urn, kettle and microwave.
A double-sided mobile whiteboard (1200 x 900) is available on request.
Click on the floor plan to see a larger view.
Booking Enquiries
Click here for booking enquiries.
Suggested Uses
The following photographs show some examples of the hall in use. PLeasenote that any group booking the hall is responsible for setting out the chairs and tables as required, and storing them away at the end of the session.
In use as a concert. A copy of the usual seating plan, with chairs arranged in three rows with two access aisles, is available from the bookings officer. Microphones can be set up as needed.
The main hall with the audience attending a concert by the Coffs Harbour City Orchestra on Sunday December 7 2014 . This concert is one of several annual events and we are always assured of support from local residents.
The main hall is set up for an art exhibition.This photograph shows the main hall in use by the Nambucca Valley Arts Council for their Biennial Art and Craft Exhibition held in September 2013.
The main stage is shown here in a setting for a play
Main hall being used for an Orchid Show.

Photo courtesy of the Guardian News

The mail hall in use for an adult education class.